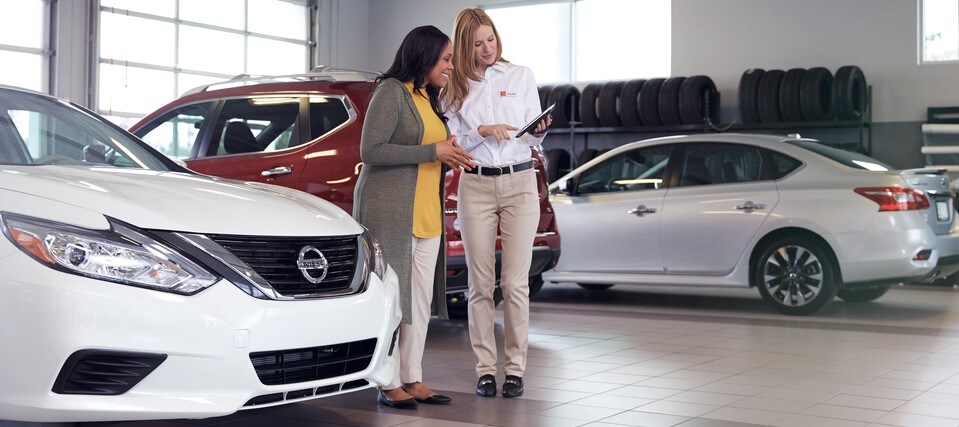 Greensboro Area Drivers Will Love the Service Center Offerings at Modern Nissan of Winston Salem
Keeping your Rogue, Sentra or Titan in its best shape is easy when you use the excellent service center at our conveniently located Winston Salem, NC Nissan dealer near Greensboro, our recommended spot for handling all kinds of repairs and maintenance. With the expertise to take care of all kinds of routine service on Nissan models like the Altima, Pathfinder and Murano, our technicians are well-trained, certified and highly professional, helping drivers from Mt. Airy, Kernersville and beyond stay on the road safely. Set up your next visit at our Nissan service center in Winston Salem, and come over soon to see how we can keep your ride in its best shape.
Trust the Nissan Experts at Our Winston Salem Service Center
Drivers from all over the area, as far as High Point, Thomasville and Lexington, will do their best trusting the Nissan experts for repairs on any kind of Altima, Pathfinder, Rogue or Titan. With the proper Genuine Nissan Parts, being manufacturer-certified and having a state of the art facility conveniently located on University Parkway in Winston Salem, our service center is your best bet when it comes to anything from routine oil changes and tire rotations to more complicated work like brake repairs or engine work. Visit us from Greensboro or wherever you're from and you'll see why your Nissan is best left in the trustworthy hands of the experts.
Our Service Center in Winston Salem Offers Convenience Before You Even Visit
Setting up a visit at our service center is easy, and you don't even have to make a phone call (though you're more than welcome to schedule your appointment that old-fashioned way if you prefer). Using our online service scheduler, we'll have your car's information safely stored away so future visits can be set up even quicker. From there, we'll be in touch to remind you of your appointment and to let you know when your Murano, Sentra or Rogue is ready to be picked up. See what the service center at Modern Nissan of Winston Salem offers by coming over today and we'll be happy to help you out.
---
Common Service Questions

We understand that for some, regular service appointments are a hassle, but they are an integral part of maintaining your vehicle so it stays with you for years to come. Here at Modern Nissan of Winston Salem we believe our Winston Salem, Greensboro, Lexington and High Point customers deserve to receive the best care, whether you are buying a car, having yours serviced, or ordering parts, our customer service is well-known, and you can see for yourself when you visit us for any car-related matter.
To help drive home the importance of routine service appointments, here are the top questions we hear in this business and the answers we have to offer for some clarification.
Frequently asked questions:
How often should I get my oil changed?
The rule has been every 3,000 miles, or every 3 months, but really the only firm answer is found in your owner's manual. Oil provides lubrication for the engine and reduces wear and friction so your engine can function properly and doesn't overheat.
Why is it important to follow the recommended maintenance schedule?
Regular maintenance appointments are important because they help to keep your vehicle in top running shape. Failure to follow routine service schedules can result in damage to your engine and even cause it to stop running. For example, if you don't get regular oil changes, you could experience carbon and varnish buildup which is toxic to your engine.
Why should I service my car at a dealership?
Our

Winston Salem, Greensboro, and High Point 

customers can rest assured that when you bring your new or used car to us for maintenance, routine or otherwise, you are getting care from technicians who were specifically trained to work on Nissan models and use only Nissan-approved parts.
Your privacy is important to us.
Modern Nissan of Winston Salem takes your privacy seriously and does not rent or sell your personal information to third parties without your consent. Read our privacy policy.